The search for the perfect landscape with your camera is an ever popular passtime if the current exhibitions in London are any indication.   Three large exhibitions major on this popular genre.   Viewing them all in one weekend is a visual challenge but is made digestable because they are far from "same, same".
First is the Ansel Adams (1902-1984) collection "Photography from the Mountains to the Sea".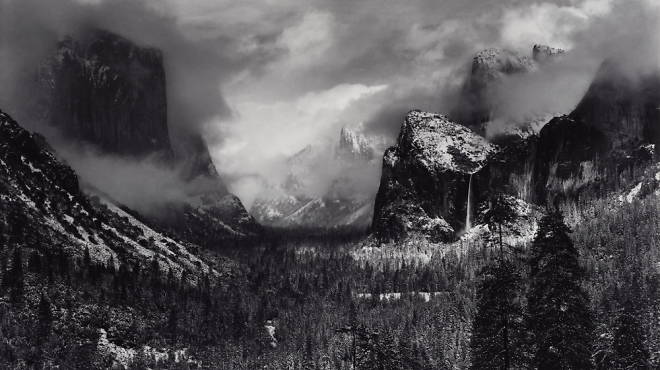 ©The Ansel Adams Publishing Rights Trust
His work is presented in a clear way that explains his move from traditional pictoralism through to more expressive work.   The sheer technical achievement is awesome.    This is very clearly evident in the three murals that are each over three metres high.   The quality is outstanding.   My favourite is the one shown above of the clearing storm in Yosemite.   This was taken using a 10×8 camera at f16, 1/5 of a second using 64 ASA film and printed using high contrast paper.
The photographs represent a lifetime's work and show the development of photographic skill from the age of 13.
Second, Sebastião Salgado (Genesis) is a set of photographs taken in a relatively short (6 year) period with a specific set of intentions.   The photographer wishes us to reflect on our own lifestyles and the impact they have on the planet.   They are all black and white and mainly high contrast but that is the end to the similarities to the work of Ansel Adams.
There is an undeniable passion that is instantly communicated by his work.   These are not just asthetically pleasing images they are also emotionally charged images that remind us what diversity the earth holds.
Third, an eclectic collection "Landmark: The Fields of Photography" shows a series of images that prompts us to reflect on the purpose of an image.   Some are documentary, some activist, some experimental.   One set of images I did not expect to find were two by John Stezaker that I had previously thought of as portraits.   Favourite image has to be the one below because of the visual impact of seeing a river in an unatural colour and realising the impact of pollution.