Some photographers that have provided inspiration include:
"Bored with obvious reality, I find my fascination in transforming it into a subjective point of view. Without touching my subject I want to come to the moment when, through pure concentration of seeing, the composed picture becomes more made than taken. Without a descriptive caption to justify its existence, it will speak for itself – less descriptive, more creative; less informative, more suggestive; less prose, more poetry."
— Ernst Haas from 'About Color Photography', in DU, 1961
A series of photographs aiming to find a visual language for pain. Created through a collaboration between artist Deborah Padfield and Dr Charles Pither, which won a Sciart Research Award in 2001.
The visual metaphors were suggested by the patients themselves and then used to open dialogue with the clinicians. Further work might involve exploring gender implications and learning in the iteration between language and image.
Interesting work as much for the contribution it makes to dialogues and public engagement as for the images themselves. Shows how art can complement science and how mutual collaborations can benefit science.

This Danish photographer's work captures a pixelated dystopia. His series "Off II" subjects are mainly cities (except the one above) and pixelate people or other parts of the picture to highlight a sense of alienation.
"The project looks directly at the dichotomy of digital and analog processes, juxtaposing one against the other, and challenges viewers to make sense of what seems like a fractured image. The images themselves provide scenes of isolation and loneliness, as the characters within are so seemingly detached from their environment." Source: Rosenmunthe (2010).
A project about computers and loneliness called "Lonely Window" uses the light of computer screens. An extract will be exhibited on the Salon de la Photo in Paris, in the Sony Corner (7-11 november 2013).
http://julienmauve.com/LonelyWindow
After lights out won second place at the Salon de la Photo in Paris.
Strangers in the Light explores the dominance of media screens in contemporary life, from surgical simulators to interactive sex, from a connected family gathering to the violence of video games. Her images also refer to the narcissistic self-awareness expressed on social networks and the new approach to quick, light mobile photography that affects our visual culture. All the scenes are lit only with the technological devices, generating a mysterious beauty. Balet casts a fascinated, sometimes ironic, eye on the intricate relationship between man and technology, providing a captivating portrait of our society that hovers between fiction and documentary.
Conveys feelings of disconnection without any apparent reason being present in the image. Gabriela Silveira illustrates the ubiquitous, all pervasive nature of future technologies and the effect they may have on behaviours. I like the use of low key colours and the mask like facial expression, reminding me of "Stepford Wives".
Although a fashion photographer his use of juxtaposition highlights deeper meanings in his images. He turned to photography after many years as a dada collage artist. The influence of both is clearly visible in his images which were technically complex in a pre-digital age. He often used mirrors and gauze type fabrics to create the effect he desired.
Interesting use of juxtaposition of two images, for example a shower alongside an image of a boy pouring water over his head from a can.
Interesting use of layered images to compile a portrait, in this case using smoke. It inspired me to think further about layering a portrait with a shot of water drops or rain, or mist.
"two faces and harbor" has been selected for Issue 14 of Fotoblur Magazine.
Brian Griffin – The Water People
An interesting use of water to convey an ambiguous message about the person and what they do.
Uses montage to with "heads" to illustrate what might be inside the person.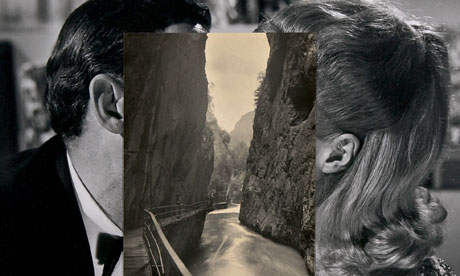 Famous for his photomontages that use portraits and additional images overlaid to tell a story or make a humourous point.
Uses text within the image, sometimes called "textportraits" to build images.
Kruger challenges conventional wisdom by her juxtaposition of text containing a powerful message with images. Her work explores themes of power and control.
Josh King
A new exhibition in Leamington Spa by Josh King highlights the reality of life for the homeless. In a series of well framed images he captures the essence of humanity in each person, in each face. Particularly liked the portraits, many of which were cropped to show only part of the face and allow space to appear beyond, as if to say there is humanity beyond the face.
Hope this exhibition will attract attention to the plight of the homeless in Britain, something that is regrettably increasing.